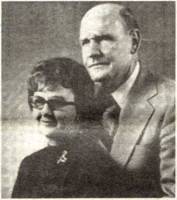 For Fairfax's 125th anniversary a king and queen have been chosen. Floyd and Charlotte Schooler were chosen as the king and queen to represent the Schooler family. The Schooler family was chosen due to the committment their family has made to the community of Fairfax for decades. The Schooler family is one of many families in this community that have kept it going for the past 125 years.
Ezra Heath Schooler, which would be Floyd's grandfather, moved to Atchison County to begin a career in farming. In 1871, he married Caroline Frances Walkup. After a fire destroyed their home, the Schooler Homestead was built one and one quater miles east of Fairfax, where Jim Schooler currently lives.

There were 15 children in this family, Asa Lee, Ida Burdell, Albert Austin, Rosamond Grace, Hubert Heath, Charles Henry, Nancy Ellen, Harvey Hall, Moses Marshall, William Wrice, Bion Bruce, Dollie Dickerson, Little brother, Okie Francis and Ellis Heath. Each child was given a dowry when he or she became of age. Ezra Heath was also president of the Exchange Bank of Fairfax from 1897-1903 and he also owned stud horses. He installed the first Acetylene plant so that the town could have lights.
One of the Schooler children, Asa, started a Racket Store in Fairfax in 1898. Another son, Charles, joined his brother two years later and then another sibling, Harvey joined them and it was then called Schooler Brothers Dry Goods and Grocery. The store consisted of general merchandise selling groceries, dry goods, hardware, etc.

The Schooler Brother's partnership branched to stores in Craig, Corning, Fortescue, MO, and Braddyville, LA. Another brother, Bion, managed all the farming interests of Schooler Brothers (Asa, Charles and Harvey) besides his own farming interests.

In 1936, the partnership dissoved and the store, belonging to Harvey, became the Schooler Grocery Store. In 1947, it was sold and Harvey and his son, Marvin, opened the Schooler Furniture Company in Fairfax. In 1968, Marvin's sons, Jim and Barry, took over management of the store. Barry relinquished his duties to manage the family farm. Jim and his wife continued to operate the store which offered a complete line of home furnishings and decorating materials.
Asa and Harvey also became licensed in the undertaking profession. The Schooler Funeral Home was first located in a buliding on the south side of Main Street. Harvey's license was dated June 1, 1912, and Asa's was dated May 18, 1907. Harvey's son, Marvin, received his license in 1937. The present funeral home was built in 1940 and Mr. and Mrs. Marvin Schooler moved into that home in May of 1940. Mrs. Schooler also received her license in 1966. Two of their sons, Jim and Barry, attended Mortuary School and became licensed funeral directors. Jim currently operates the Schooler Funeral Home in Fairfax and Craig.

Floyd and Charlotte (Judy) Schooler were married in 1947 and have lived two miles east of Fairfax their entire married life. Before the death of his father, Bion B. Schooler, Floyd was associated in farming with his father and brother, Wayne. The partnership continued until Wayne passed away. Today, Floyd keeps busy overseeing the farming operation and dozing. Both Floyd and Charlotte are graduates of Fairfax High School. Floyd graduated in 1941 and Charlotte in 1940. Charlotte also graduated from Tarkio College and then taught at rural schools, Milton and Elkdale.

The Schoolers have two children, Jerry and Judy, and four grandchildren. The Schoolers are members of the Fairfax United Methodist Church where Charlotte is active with the United Methodist Women. Floyd enjoys visiting with people and loves telling stories about the good ole' days of Fairfax. Charlotte enjoys her home, cooking, flowers and gardening. Grandkids are special to both of them. The Schooler's will be riding in the fair parade on Saturday, August 20. This honor is being sponsored by the Fairfax Optimist Club and The Mane Thing.