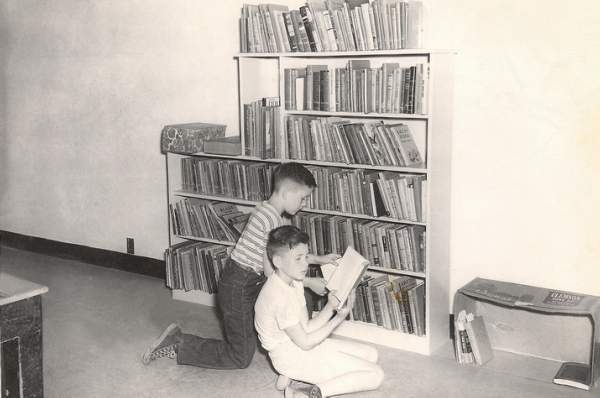 This is a picture of the first "stacks" collection of books of the Atchison County library. It was taken by my mother in 1945 after the library had been set up on the ground floor of the county courthouse. It shows my two brothers, Graham (white shirt) and Donald Bell (striped shirt), perusing the books in the collection which consisted of one small bookcase and one box of books. I have tried to contact the library about this photo but have not been able to find any e-mail address for them. I would be very happy to send them a copy of the photo it they are interested.
There is more to the story. My picture was also taken looking at the books with my friend, Ann Stapleton. We were five or six years old at the time. That picture was used by the newspaper for a front page story about the new library service. So it would be in the morgue of the paper if it exists.
My parent's names were Charles and Billie Bell. We lived across the street from the courthouse and daddy owned the bank there.
Charlene (Bell) Dietz
back to Atchison County Photos
---